Nigerian Newspapers Daily Front Pages Review | Tuesday, 19 October, 2021
Crises caused by parallel state congresses of the All Progressives Congress may stall the party's national convention scheduled for December, The PUNCH reports.
---
Vanguard takes a look at the plight of police officers and their families one year after the #EndSARS protest that rocked the nation.
---
Rauf Aregbesola's loyalists had dragged leadership of the APC to the Federal High Court sitting in Osogbo over the ward congress held on July 31, 2021, and to challenge the outcome of last Saturday's congress in the state, The Guardian reports.
---
Despite the N1.12 trillion allocation in five years, bass roads still exist across the country, Leadership reports.
---
Daily Sun leads with the twin attacks carried out by suspected armed bandits on Onion markets in Goronyo and Isa Local Government Areas (LGAs) of Sokoto State.
---
According to The Nation, Nigeria will get more assistance from the United States (U.S.) in the battle against insecurity, a top Biden Administration official said.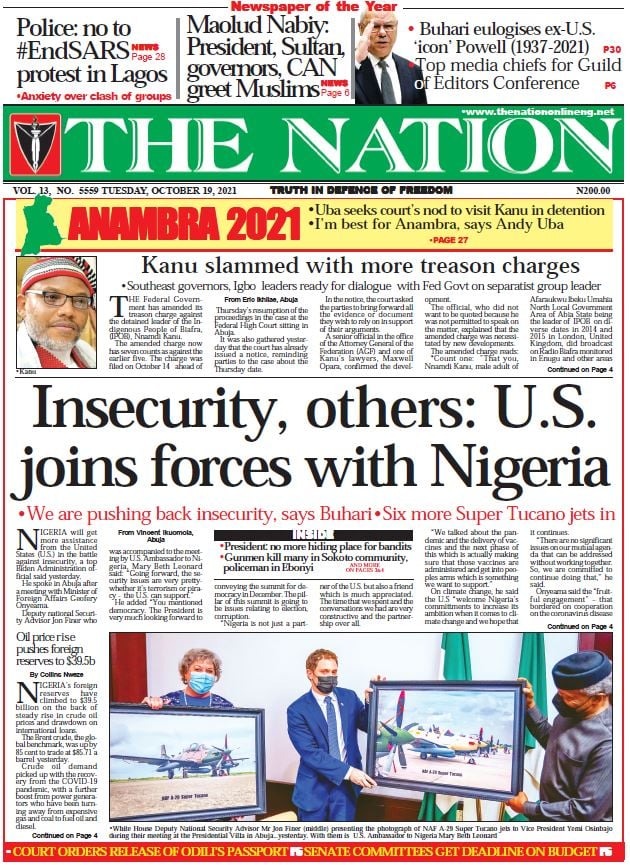 ---
The killing of dozens of people at Goronyo market in the eastern part of Sokoto State Sunday night, Daily Trust reports, was launched by different bandits' groups that worked as a team.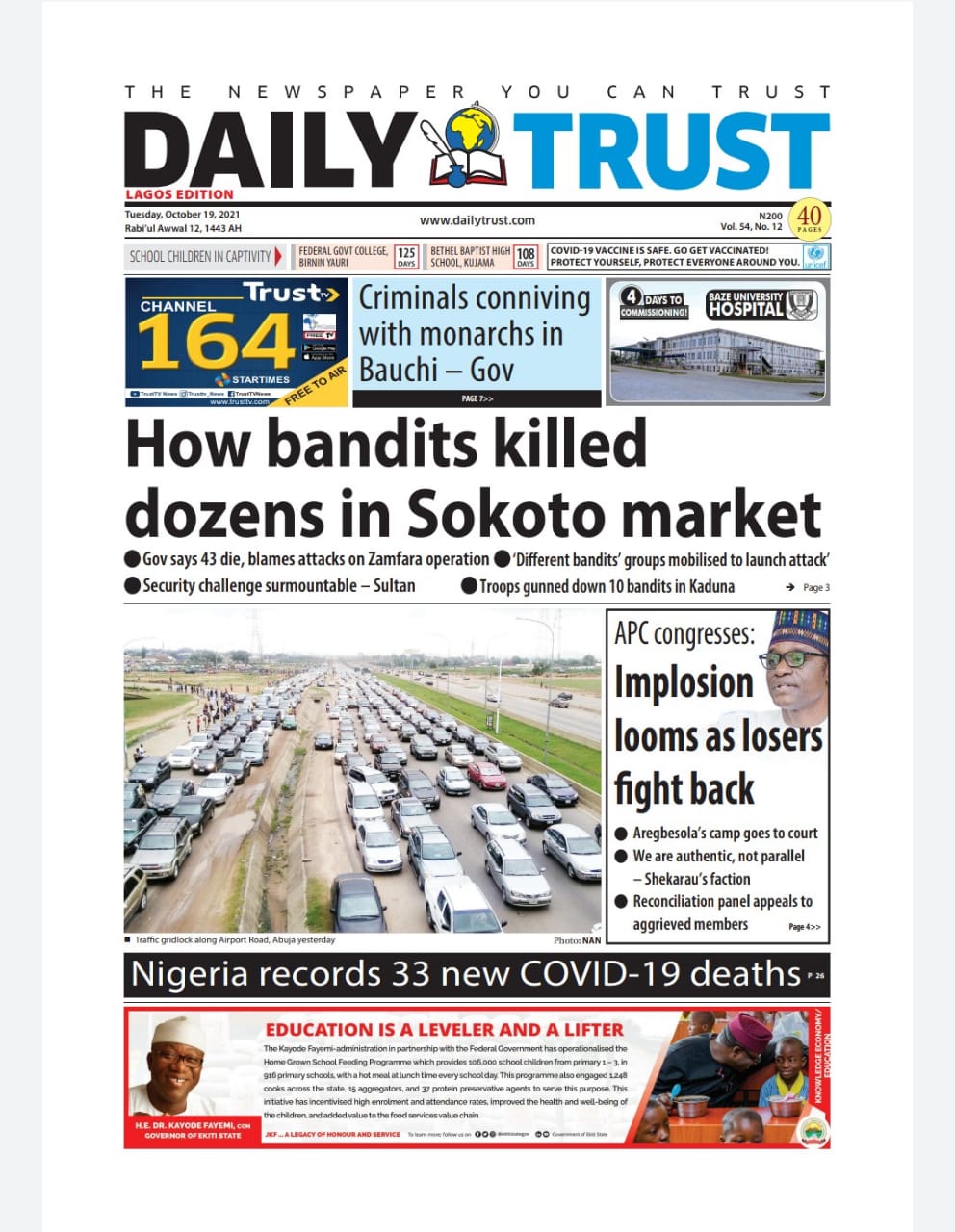 ---
Daily Independent leads with the lamentations of consumers over the 25% rise in food prices across the country.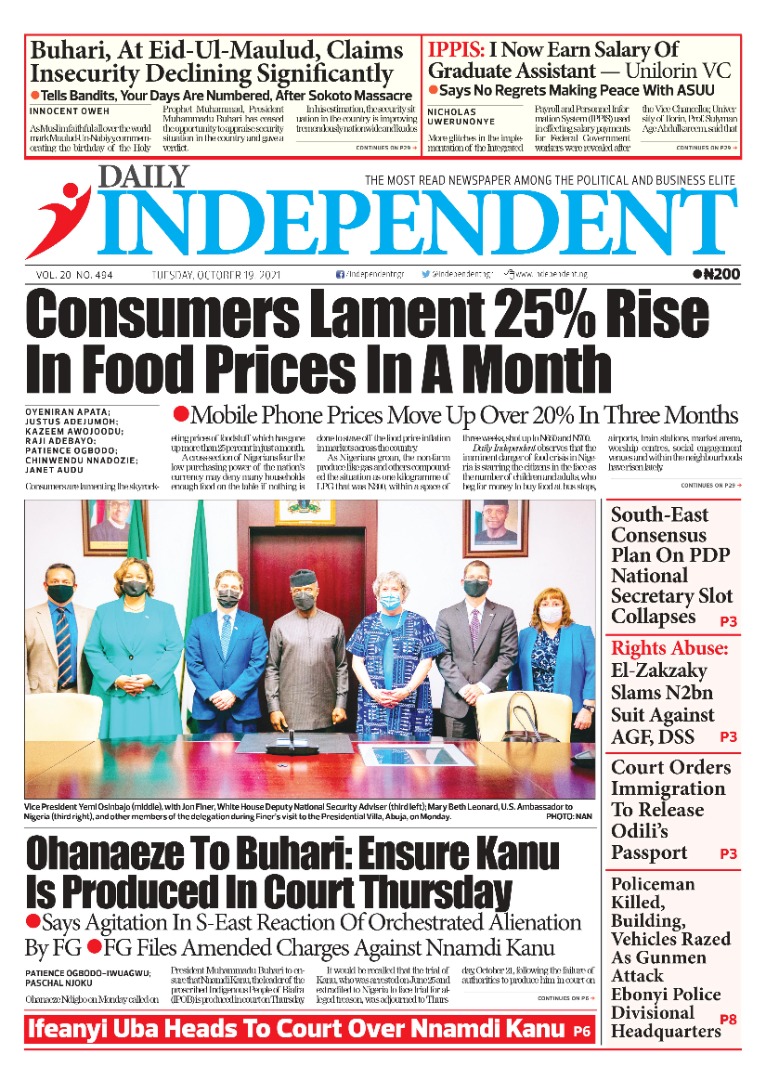 ---
Despite killings across the country, President Buhari says insecurity is declining in the country, Nigerian Tribune reports.
---
Buhari in his Eid El-Maulud message urged journalists to revise their reportage of insecurity, according to Nigerian News Direct.
UK Newspapers Daily Front Pages Review | Tuesday, 19 October, 2021
Metro reports that MP Mark Francois has called for an end to online hatred as terror police investigate social media links of suspects in Sir David Amess killing.
---
The COVID-19 booster shot rollout is too slow as estimates shows 22 million people will be ready for their third dose by December, Daily Telegraph reports.
---
Parliamentarians are putting pressure on PM Boris Johnson to crackdown on online abuse of public figures and social media anonymity, The Guardian says.
---
In tribute to the murdered Sir David Amess, his home town of Southend has been awarded city status, Daily Express reports.
---
Daily Star leads with the report that not a single baby born in England and Wales last year were named Nigel.
---
The Daily Mail leads with a CCTV footage of the Somalian, Ali Harbi Ali, believed to be the killer of MP Sir David Amess.
---
According to The Times, an overall of government strategy will determine whether MI5 and the police should be given the power to control the Prevent programme.
---
According to Daily Mirror, hate message video of Islamist hate preacher Anjem Choudary has easily be accessed online.